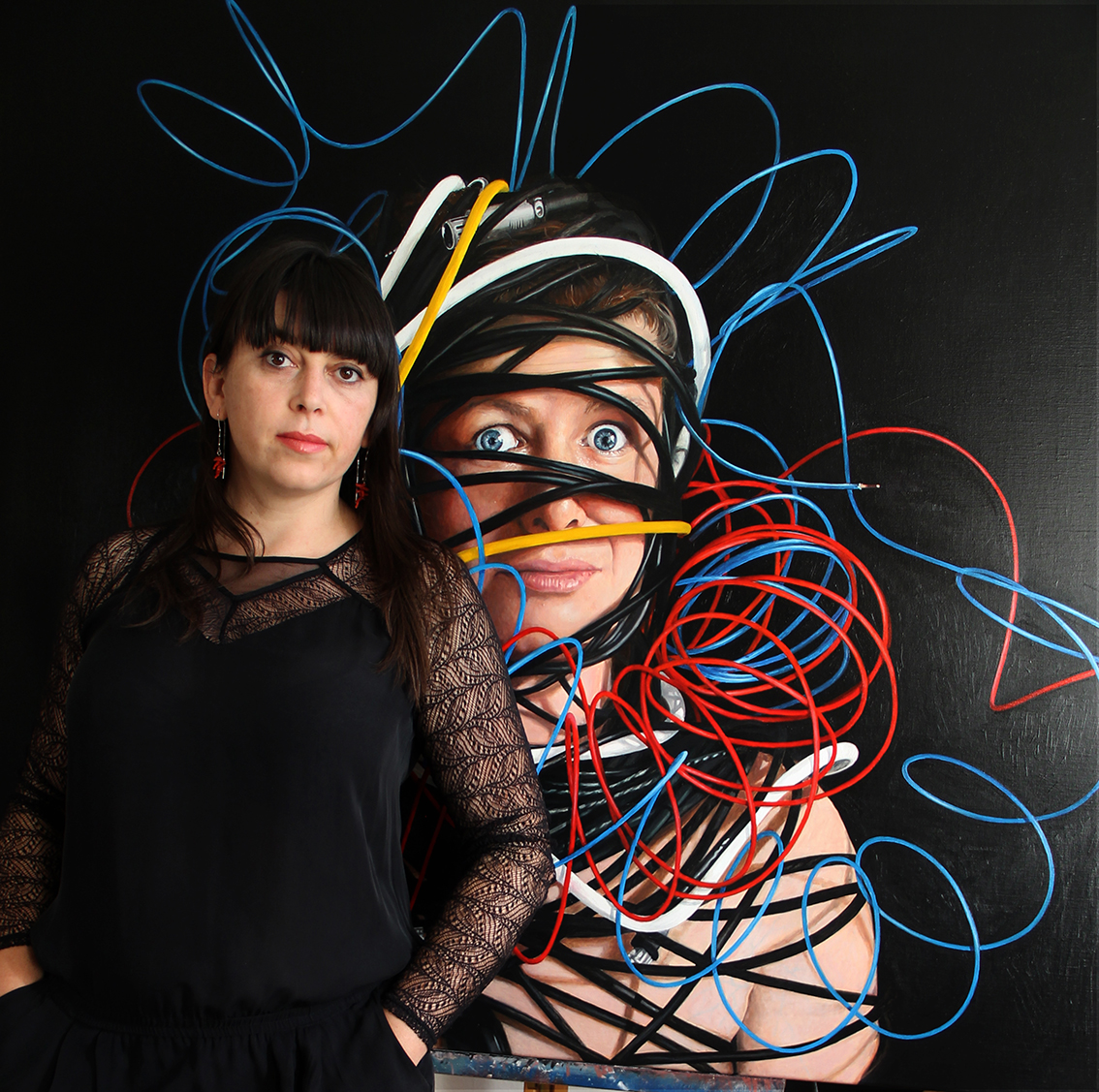 Tanya Atanasova is a contemporary realist artist born in Pirdop, Bulgaria in 1978. She earned a Bachelor of Applied Arts from National Academy of Art (Sofia, Bulgaria). Tanya graduated with maximum score for final work and complemented her studies with one year Erasmus-stay at Sint-Lucas Art Academy in Ghent, Belgium and a Master Class by artist Eloy Morales (Madrid, 2016).
Dedicated to big size non-traditional portraits, Tanya started weaving her way through contemporary realism. She is now working from her own studio in Antwerp (Belgium) – one of Europe's most important cities for art and culture.
In 2019 she's preparing a large solo exposition called "You my dear", which will open in November in Antwerp (Edegem, Huis Hellemans) as well as several group exhibitions including "Painting Today/ Pintando Hoy"(curated by Didi Menendez for MEAM Barcelona, Spain) and "Adorn me" excusive online project(curated by Carol Hodes).
In the past few years Tanya has been a finalist in several Belgian national competitions such as "Painting of the Year - Belgium" 2013 and 2014, "Grote Prijs Piet Staut" 2017, "Ongezien" 2018 and has been selected for some of the most prestigious contests in the world, such as "Figurativas" at MEAM in Barcelona in 2017.
She has been published in art magazines and blogs: Fine Art Connoisseur (USA), PoetsArtists (USA), BOOOOOOOM (USA), The Guide Artists (Spain), Artelibre (Spain), Clatia (China), Beautiful Bizarre (Australia)… Her works have been shown in numerous group and solo exhibitions in galleries, museums and art fairs in Bulgaria, Belgium, Germany, France, Spain and the Netherlands.
In addition to her artistic career, Tanya has worked as an illustrator and a painting and sculpting teacher in Belgium.
Date of birth: 04/07/1978
Place of birth: Pirdop, Bulgaria
Nationality: Bulgarian, Belgian
Place of residence: Antwerp, Belgium
2001 - 2005 National Academy of Art, Sofia, Bulgaria
Major: Applied Arts - Ceramics
2003 - 2004 Hogeschool Voor Wetenschap & Kunst / Sint - Lucas / Beeldende Kunst, Ghent, Belgium
1993 - 1998 Vocational School of ceramics and Glass, Elin-Pelin, Bulgaria
Major: Design in Silicate Production
2020 "Lou" / 1st prize at Boynes Emerging Artists Award Australia / Painting / Australia

2019 "You my dear" / Solo exhibition / Paintings / Huis Hellemans, Edegem, Belgium
2019 "The Art Of The Nude" / An exclusive, online show of PoetsArtists curated by Didi Menedez / Paintings / Zhou B Art Center, Chicago, USA / ARTSY-Link for collectors: www.artsy.net/artist/tanya-atanasova
2019 "Ongezien #4" / Group Exhibition / Paintings / Havenhuis - Port of Antwerp, Antwerp, Belgium / www.expoongezien.be/
2019 "Painting Today / Pintando Hoy - International Women's Day" / Group Exhibition / Paintings / Museu Europeu d'Art Modern / Barcelona, Spain / www.meam.es/es/exhibitions/84/painting-today
2019 "Adorn me" / An exclusive, online show of PoetsArtists curated by Carol Hodes / Paintings / Zhou B Art Center, Chicago, USA / ARTSY-Link for collectors:
www.artsy.net/artist/tanya-atanasova
2018 "L'Abstrait Réel" / Group Exhibition / Paintings / La Salle Royale de la Madeleine, Paris, France
2018 Exhibition of the finalists in "Ongezien #3" - competition / Group exhibition / Painting / BP-building, Antwerp, Belgium / www.expoongezien.be
www.museumnacht.be
2018  "Carolyn Spaenjaers & Tanya Atanasova"  / Duo-Exhibition / Paintings / Gallery Jean, Antwerp, Belgium / www.jeangallery.be/
2018 "Living Room" / LandArt Installation / Open Sites, Villeneuve d'Ascq, France / www.entre-lacs.eu
2018 "Goed bezig " - Art & Music Festival / Paintings / Meatpack aan de Dam, Antwerp, Belgium / www.facebook.com/meatpackantwerp
2018 "Kunstroute Essen" / Group Exhibition / Paintings / Sint-Antoniusplein 1, Essen, Belgium / www.tatteljee.be
2018 "You my dear" / Solo Exhibition / Portraits / Design Center De Winkelhaak / Antwerp, Belgium / www.winkelhaak.be
2017 Exhibition of the finalists in "Grote Prijs Piet Staut"- competition / Painting / Castle Cortewalle, Beveren - Waas, Belgium / www.kpsk.be
2017 Preselected for Figurativas MEAM Barcelona / Barcelona, Spain
2016 "My soul is a landscape" / LandArt Instalation / La Fête de May, Haut-Bois (Gesves), Belgium / www.lafetedemai.org
2016 "Golden (F)oil" / Instalation / P(ART)cours - Par(KUNST), Woluwe Park, Brussels, Belgium / www.partcours-parkunst.com
2016 Painting with Eloy Morales / Master Workshop / Painting / Madrid, Spain / www.eloymorales.es
2015 "DecemberWinkel" - ArtFair / Paintings / Kalmthout, Belgium / www.decemberwinkel.be
2015 "Kunst @ IJsfabriek" - Group Exposition / Paintings / Antwerp, Belgium / www.deijsfabriek.be
2015 "40 Jaar de Meesters" - Group Exhibition / Paintings / Sint Antoniusplein 1, Essen, Belgium / www.tatteljee.be
2015 "Painting of the year - Belgium 2014" - Group Exhibition of the finalist's works / Painting / CODA Museum / Apeldoorn, The Netherlands / www.schilderijvanhetjaar.be
2015 "Kunstroute Essen" / Paintings / Sint-Antoniusplein 1, Essen, Belgium / www.tatteljee.be
2015 "ArtEindhoven" - Art fair / Paintings / The Klokgebouw (former Philips factory) / Eindhoven, The Netherlands / www.arteindhoven.nl
2014 "Painting of the year - Belgium 2014 " / www.schilderijvanhetjaar.be/schilderij/277
2014 "Art & Music in the SkyBar" - Solo Exhibition / Paintings / SkyBar, Antwerp, Belgium / www.facebook.com/pages/Tanya-Atanasova-Visual-Arts
2014 "Painting of the year - Belgium 2013" - Group Exhibition of the finalist's works / Painting / Kunstforum Würth, Turnhout, Belgium / www.schilderijvanhetjaar.be
2013 "Painting of the year - Belgium 2013" - www.schilderijvanhetjaar.be/schilderij/455
2013 "Tanya Atanasova - Ivo Nijs - Duo-exhibition" / Paintings / Tracé - Cultuur Station Ekeren, Belgium / www.vzwtrace.be
2013 "Golden Rocks" / LandArt Installation / Landart am Bruchhof, Stadthagen, Germany / www.landart-bruchhof.de
2012 "Kunstroute Essen" / Paintings / Essen, Belgium / www.tatteljee.be
2008 "Canvascollection" / Paintings / Antwerp, Belgium / http://labo.canvas.be/content/de-appel
2005 "Nieuwe Oogst" / Ceramics / Sint Lievens Esse, Belgium
2005 "The Sea Misses You" / Installation / Balkan Exhibition, Academy Gallery, Sofia, Bulgaria
2005 "Hanging experiment" / Performance / Little season, Theatre - Laboratory Sfumato, Sofia, Bulgaria
2005 The Sea Misses You / Installation / Little Season, Theatre - Laboratory Sfumato, Sofia, Bulgaria
2000 Solo Exibition / Paintings & Drawings / Koprivshtica, Bulgaria
1999 Group Exhibition / Ceramics / Elin - Pelin, Bulgaria
1999 Regional Exhibition / Painings & Drawings / Koprivshtica, Bulgaria