I'm working on a large series of portraits of people I know very well or people that have played an important role in my life through the years. This two-and-a half-year project, in which I want to capture more than just the outer appearance of my models is called "You my dear" and is all about friendship.
I have started this project one year ago doing everything on my own: traveling far to interview my models and get some pictures, working long days in my atelier, developing the website, buying materials, painting for months, crating, shipping, writing, publishing .... But it still is a project of a great importance to me - this is my way of saying "thank you" to these people for being next to me all these years. I'm telling their stories, I'm painting/celebrating the link with them!
In my artistic practice I use a lot of modern painting techniques to create the different "layers" of a personality, character, spirit, presence… I devote a lot of attention to the construction of my character's personalities. Being interested in the psychology of my models, I want to become an intermediary between subject and viewer – building a connection that goes beyond painted realism. My gaze is directed deep into the story of every personage I create, his/her identity and unique complexity. Looking at the paintings should be like taking a glimpse into the character's diary or reading a page out of his/her biography.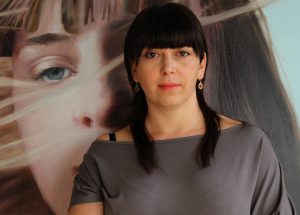 Tanya Atanasova
°1978, Pirdop, Bulgaria
Ommeganckstraat 9
2018 Antwerp
Belgium
mob: ++32(0)4 96 94 52 83
info@atanasova.be
www.atanasova.be
BIO:
Tanya Atanasova is a contemporary figurative realist painter and Land-Art artist, based in Antwerp, Belgium. She is currently working on a large series of non-traditional portraits to be exhibited in a solo show in 2019.
EDUCATION:
2001 - 2005 National Academy of Art, Sofia, Bulgaria, BAA
2003 - 2004 Hogeschool Voor Wetenschap & Kunst / Sint - Lucas / Beeldende Kunst, Ghent, Belgium
SELECTED EXHIBITIONS:
GROUP EXHIBITIONS
Exhibition of the finalists in "Grote Prijs Piet Staut"- competition / Painting / Castle Cortewalle, Beveren - Waas, Belgium / www.kpsk.be
DecemberWinkel - ArtFair / Paintings / Kalmthout, Belgium / www.decemberwinkel.be
Exhibition "Kunst @ IJsfabriek" / Paintings / Antwerp, Belgium / www.deijsfabriek.be
My soul is a landscape / LandArt Installation / La Fête de May, Haut-Bois (Gesves), Belgium / www.lafetedemai.org
Golden (F)oil / Installation / P(ART)cours - Par(KUNST), Woluwe Park, Brussels, Belgium / www.partcours-parkunst.com
SOLO EXHIBITIONS
Solo Exhibition "You my dear" / De Winkelhaak – House of C / Paintings / Antwerp, Belgium
Solo Exhibition "Kunst en Muziek" / SkyBar / Paintings / SkyBar, Antwerp, Belgium
Solo Exhibition "Tanya Atanasova - Paintings & Drawings" / Koprivshtica, Bulgaria
FAIRS:
"ArtEindhoven" - Art fair / Paintings / The Klokgebouw (former Philips factory) / Eindhoven, The Netherlands / 2015
PUBLICATIONS:
Models, Gucci, Fashion, and Art /PoetsArtists / Didi Menendez / USA / 2018
www.medium.com/@didimenendez/models-gucci-fashion-and-art-d29455371ad6
100 Facebook portraits / PoetsArtists / Didi Menendez / USA / 2017
www.buzzfeed.com/didimenendez/100-facebook-portraits
50 Badass figurative painters to follow on instagram / PoetsArtists / Didi Menendez / USA / 2017
www.buzzfeed.com/didimenendez/50-badass-figurative-painters-to-follow-on-instagram
One to watch / Fine Art Connoisseur newsletter / Andrew Webster / USA / 2017
www.fineartconnoisseur.com/2017/11/one-to-watch-tanya-atanasova/
Arte y Libertad XII / Artelibre catalogus /Spain / 2017
www.artelibre.net/en/anuarios
The Portrait Issue / PoetsArtists / Didi Menendez / USA / 2017
www.cargocollective.com/menendez/The-Portrait-Issue
CONTESTS:
Finalist in "Grote Prijs Piet Staut"- competition / Castle Cortewalle, Beveren - Waas, Belgium 2017
Preselected for "Figurativas" MEAM Barcelona / Barcelona, Spain 2017
Finalist in "Painting of the year Belgium 2014" / Belgium, 2014
Finalist in "Painting of the year Belgium 2013" / Belgium, 2013
Preselected for "Canvascollection" / Antwerp, Belgium 2008
REPRESENTATION GALLERY:
Artelibre Gallery, Spain
www.artelibre.net